Arts and Crafts Summer Camp Activities
Central to summer camp are the arts and crafts projects. Completing a successful summer camp means the kiddos end up with souvenirs of their handy work. Below is an assortment of projects to get you started.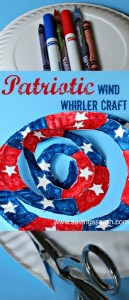 Woodworking is a summer camp staple. Check out these helpful instructions for a DIY Kid's Toolbox from The House of Wood and a DIY Birdhouse from 100 Things 2 Do. If you need a larger quantity of supplies for these projects and would rather purchase kits ready to go, they are available through Home Depot's website.
Help the kids give a nod to nature with this DIY Hummingbird Feeder from Crafting Chicks. This project offers a great reuse of plastic water bottles.
And speaking of nature, your summer camp participants will love these Bugs From Ice Cream Wooden Sticks by Krokotak and the Catepillar Pom Pom Craft from Easy Peasy And Fun.
Paper plates make great, inexpensive craft supplies. Check out the Patriotic Wind Whirler that my son and I made together, as well as, these 98 Other Amazing Paper Plate Craft Projects.Easy Patriotic Wind Whirler Craft
The God's Eye Craft from Pretty Prudent is a classic camp craft. I remember it from the camp experiences of my youth (and that has been a long while ago).
Cap your summer camp craft activities off with these groovy t-shirts using 20+ Tie-Dye Techniques from Tie Dye Your Summer.
Summer Camp Games
No summer camp would be complete without playing lots of fun games.
Horseshoes are a perennial favorite. This Champion Sports Rubber Horseshoe Game allows you to effortlessly set up a makeshift horseshoe pit in your backyard. Even better, you avoid doing lots of damage to your grass.
The Ring Toss Game is another beloved camp game that also happens to be great for coordination and concentration.
An Obstacle Course will keep the kiddos on their toes as they duck, weave, crawl, run, jump etc… to make their ways through the course. Check out this clever Pool Noodle Obstacle Course from PBS Parents.
DIY Giant Jenga is sure to be a favorite. Check out the step-by-step instructions from Lemon Thistle on how to make this game. And while on the site, you can also get detailed instructions for putting together Yard Dominoes, Yahtzee, Corn Hole, and Scrabble.
Bring your kids inner rabbit out with a few DIY Patriotic Gunny Sack Races from Hostess With The Mostess®.
Since a BB gun range is not really feasible in the average backyard, why not substitute in some safety glasses and Nerf Gun Shooting At Targets. Busy Kids Happy Mom has come up with an easy, inexpensive target made of cups. These Spinning Nerf Targets from Frugal Fun For Boys And Girls are fun, as well.
Use this Pacific Play Tents 6 Foot Kids Parachute with Handles to play some or all of these 15 Interesting Parachute Games found at Mom Junction.
Finally, find the Motherload of Summer Camp Games at MacScouter's The Great Games Resources. If anybody know how to play camp games right, Scouts do!
Summer Camp Science Activities
Science project fun goes hand-in-hand with summer camp. Here are some activities to add to the list.
Scavenger Hunts are great for getting a close up look at the great outdoors. Check out the Nature Scavenger Hunt from No Wooden Spoons and the Simple Color Scavenger Hunt from I Heart Crafty Things.
The kids will learn first-hand, with adult supervision, about the forces of propulsion by building this water-powered Bottle Rocket from Science Sparks.
Mesmerize your campers with these 12 Cheap, Fizzing, Popping, and Erupting Kids' Science Experiments. 12 Cheap Fizzing and Erupting Kids' Science Experiments
Summer Camp Night Activities
When the sun goes down, the fun doesn't stop at summer camp. Pitch a tent in the backyard, build a campfire (or a fake one if regulations or weather conditions don't allow), and have a great time bunking in the backyard. A campfire or a propane grill will work to make some yummy s'mores. These Carpathen Marshmallow S'mores Roasting Sticks will be a big help.
Source: http://www.savingssarah.com/2017/05/22/summer-camp-activities/